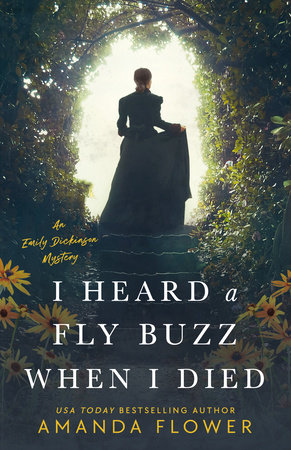 I Heard a Fly Buzz When I Died
Book 2 in the Emily Dickinson Mystery series
By Amanda Flower
The way Amanda Flower writes it, before Emily Dickinson was a published poet, she was an amateur sleuth, solving murders in her hometown of Amherst, Massachusetts, with her sometimes reluctant maid, Willa Noble.
Summary
In I Heard a Fly Buzz When I Died, the murder victim is Luther Howard, Ralph Waldo Emerson's personal secretary. The eminent poet was invited to Amherst by Susan Dickinson, Emily's dear friend and her brother, Austin's, new wife. Things were going well with the visit; Emerson was a popular speaker with people flocking to hear his talks. Dinners were held at Austin and Susan's new home, a wedding present from his parents. At dinner one night, Luther excused himself. He was acting oddly and was later found dead in the gardens at Emily's father's house, next door to Austin's home.
When a suspect is arrested, Emily is certain the police have the wrong man. Emily and Willa investigate on their own and risk becoming a murderer's next target.
My Thoughts
Even though the books are in the Emily Dickinson Mystery series, Emily isn't the point of view character. Willa Noble, Emily's maid, is the one telling the story, and through her eyes there is more to the books than just the mystery. The series is set in the years before the Civil War and class distinctions are firmly rooted in society. Maids, like Willa, are part of the working class and aren't friends with their wealthy employers.
Emily refuses to acknowledge this distinction, even though the rest of her family and her friends don't hesitate to remind Willa of her place. It is a friendship that frequently places Willa in awkward positions, which Emily doesn't see. But Willa can also talk to people that, because of the class division, wouldn't speak freely to Emily. Without Willa, Emily couldn't solve any mysteries.
I also like the different, albeit fictional, take on Emily Dickinson. She is a woman before her time-independent, rejecting social expectations of women's roles and class distinctions. This independent streak drives Emily to take the steps she does in order to solve whatever mystery she's involved in. There were plenty of viable suspects for Emily to deal with and that kept me guessing the murderer's identity up until the reveal. The killer was one I didn't see coming.
I Heard a Fly Buzz When I Died is a stellar addition to the Emily Dickinson Mystery series.
Thanks to #NetGalley and #StMartinsPress #MinotaurBooks for providing a free copy in exchange for an honest review.
Publishing Information
Penguin Random House 
Paperback $17.00
Nov 14, 2023
ISBN 9780593336960